Hello Everybody!
Update: WordPress plugin was submitted on Jan 9, 2012:
http://wordpress.org/extend/plugins/prove-you-are-a-human-ruh-captcha-plugin/
RUH ("aRe yoU a Human?" or "pRove yoU are a Human") software is one of the image-based CAPTCHA (Completely Automated Public Turing test to tell Computers and Humans Apart) which helps to struggle with spam.  The uniqueness of RUH is that image database consists of several main categories, and some of them divided by subcategories.  The owner of the database can be provided with a utility which creates it (database) from a directory tree.  In current implementation there should be N-1 categories, where N is a number of images shown as the challenge, currently 9.  So, having categories and subcategories, challenged person (or a robot) has to select two most closely related objects.  They (objects) might be either from the same category, or from the same subcategory.  Each time it is randomly decided.  For example, if once a hammer and a saw match as two objects from 'Tools' main category, another time one has to select two hammers, or two saws, from 'Hammers' or 'Saws' subcategories, respectively.  Please see examples below.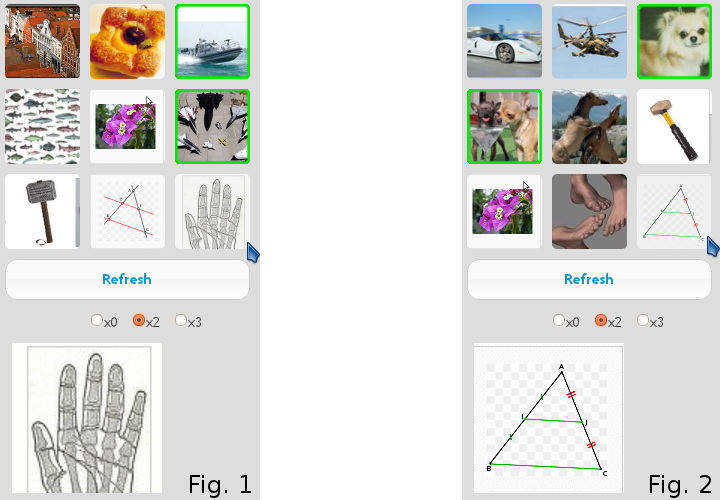 As you can see from Fig. 1, the closest two objects from nine shown are jets and a vessel – they are both from 'Machinery' main category.  On Fig. 2, despite that there are three images with animals ('Animals' main category), the dogs are better choice, because they belong to 'Dogs' subcategory of 'Animals'.
Please leave your comments, I am open for discussion.
Share this: Facebook | Delicious | digg | reddit